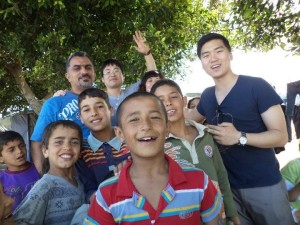 "Behold, I have set before you an open door, which no one is able to shut" Revelations 3: 8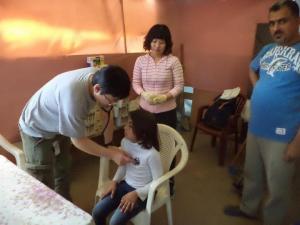 Hundreds of hundreds of Syrian refugees are coming "to hear the Word of God, to be fed, to be treated by medical teams, and to be loved ," Lebanese missionary Mohammad Yamout recently told a standing-room-only audience at Salam Christian Fellowship in Lombard.
Mr. Yamout, raised as a Muslim and converted to Christianity several years ago, described past events at his mission station in Tyre as a "tide moved by God and a door for preaching the Gospel that could not be shut. " Mentioning the tragedies and massacres in Syria and Iraq , he made it clear that " God is bringing good out of evil " and that scores of Muslims in those countries have found comfort and peace by proclaiming Jesus Christ as their Savior.
Mr. Yamout and his family have been persecuted for their mission work. He explained it as "part of the spiritual warfare that Christians suffer when they preach the Gospel to Muslims." He credited God for giving him and his family the necessary love and patience to endure this persecution.
The missionary encouraged Americans to get involved in his mission in South Lebanon . He related that a Christian brother , former U.S. Marine Chris Todd and his family, are now in Tyre helping him while he travels now and then to the United States to raise funds for his mission. Mr. Yamout was recently joined by an 18-year- old American missionary from California, whom he said was one of those new generation of young people helping mission projects protect innocent people in the Middle East from the violence of ISIS . "She [ the missionary ] is a lady totally sold out To Jesus without any reservations . She packed her bag with a fistful of dollars in her purse and answered the Lord's Call for Laborers in the Plenteous Harvest of the Middle East ."
Yamout went on to say that if Christians cannot come to Lebanon to help his mission, they can get involved in many other ways, such as sponsoring a child through the Salam Christian Fellowship or by contacting the Beirut Lutheran Hour Ministry office .
In addition of being displaced and homeless, Syrian refugees have been recently banned by the Lebanese education system from attending public schools , Mr. Yamout claimed. This ban led him to enroll more than 70 children at Catholic schools, which, he said , charge a $1,000 dollars per student tuition. He is planning to start a preschool for hundreds of refugee and neglected Syrian children .
With a goal of planting churches for Muslims in the Middle East, Mr. Yamout founded his mission headquarters in 2008 , later adding a sister center in Amman, Lebanon.
Born in 1966, in Beirut, Lebanon, Mr. Yammout converted to Christianity at the age of 14 , coming from the largest Sunni Muslim family in Beirut. The Yammout family has been providing Imams and muazzens (those who call for Islamic prayers in mosques) for a century, and his late great uncle, Sheikh Shafiq Yammout, was the head of Sharia courts there.
Lebanon used to be the only state in the Middle East that had a Christian majority, Mr. Yamout told his audience . Christians in Lebanon have dwindled from more than 50% of the population early in the 20th century to the current 13% . The rest of the residents is mainly Shia and Sunni Muslims. Political power is divided among the Lebanese along sectarian lines; however, the president of the country is required to be a Catholic Maronite; the prime minister a Sunni Muslim; the house speaker a Shiite Muslim; and 50% of the parliament must , by the national constitution, be elected from the Christian population.
Even though the country's Lebanese population is only 4 million, Lebanon has received more than 2 million Syrian refugees since the civil war broke out in Syria. The country now has 750,000 Palestinian refugees, many are those who were displaced after the establishment of Israel in 1947.
Asked more about the tragic situation in the Middle East, Mr. Yammout explained that the fighting in Syria and Iraq is a 1,400-year-old feud between Sunni and Shia Islamists . He said that the U.S. intervention against the Islamic State is considered by Sunni majority as taking sides with the Shiite minority, which is represented by Iran, the Syrian regime, and Hizbollah in Lebanon. Mr. Yammout explained that Sunni majority countries are supporting the fight against the Shiite militias in Syria and Iraq. He further explained that since the Iranian Islamic Revolution took place in 1979, Shiites "have dug themselves into a hole, antagonizing Sunnis, and that they cannot kill their way out of this crisis. " The Shiites cannot rule the Sunnis by force, and a just political solution to the grievances of both parties is needed in
the region, he asserted.
Edited by Bob Schwarz