Two Unlikely People Come Together Because of Jesus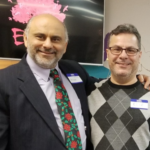 Jesus Christ, the Prince of Peace, brought together two fighters in the Lebanese Civil War; Elie Hasbani; a former Right-wing Christian militiaman and Hesham Shehab; a former Muslim Brotherhood Member.
While Elie was fighting with the South Lebanon Army against Palestinian and Muslim militias, Hesham was on the opposite side, fighting with the military wing of the Muslim Brotherhood against Christians.  He was avenging the death of his only sibling, who died at the hands of a Christian militia.
Elie grew up in a Catholic family that was caught in the Lebanese Civil War. Elie bore arms in order to defend the Christians in Lebanon. He was promoted to a military leader and lost his lower leg in a land mine planted by Palestinian militias. In his pain and suffering, he cried out to God. A vision of Jesus Christ brought him to his knees. Elie decided to serve the Lord, went to a seminary in Lebanon and later, he earned his Ph.D. and planted an international church in Milwaukee, WI.
Hesham Shehab grew up in a world of bitter animosity between Muslims and Christians.  Hesham was trained as a preacher in the Muslim Brotherhood at an early age, and had memorized half of the Quran by heart.  He was recruited by the Muslim Brotherhood  and later fought against Christians in Lebanon.
In 1980, after his brother was killed, Hesham was studying for college  by day, and seeking revenge on Christians by night. After hearing the Sermon on the Mount, in a course of cultural studies, Hesham came to faith in Jesus Christ.  He received forgiveness and reconciled with God.  Instead of hatred and revenge, he became peace loving.
Hesham and Ellie were brought together by a common friend from Lebanon   Now these likely enemies have become brothers in Christ and they work together reaching out to the Muslims.
Their families now celebrate Christmas  together with other Arabs.
Hesham and Ellie are an example of what the power of the Holy Spirit can do to bring reconciliation to people who are enemies.
This is God's Gospel alive and well.
Prayer Requests
* for perseverance and spiritual growth.
* for additional drivers to take people to appointments
* for hearts to be open to the love of Jesus Christ
---
---
Missionary Hesham translates the Catechism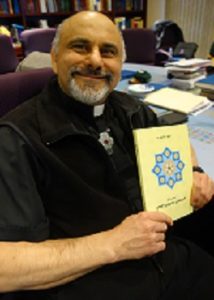 Pastor Hesham improved the Arabic catechism translation by updating the language to reflect the way the modern Arabs write and speak.
Learn more at www.lhfmissions.org
---
---
Opportunities to Serve and Support
Benevolence
 This Arabic outreach, mostly to refugees, provides for people's needs as an entry point into their lives – that's how an ethnic ministry operates. Both money and volunteers enable this ministry to meet those needs and open doors through which these new souls can encounter the Gospel. Hence, benevolence is a very important part of this ministry. It is estimated that at least $ 500 are  needed monthly to help support low income or no-income refugees who attend Salam.
Financial Support:
A monthly gift in the amount of:
$120 will provide pain medication
$60 can pay for a week of gas to transport people for fellowship
$5 a week will pay for Hicham to meet with a Muslim over coffee.
$150 pays for a meal for Salam Fellowship.
$75 a week will pay for a driver to take people to clinics or the public aid office.
$10,000 a month will pay for one month of expenses for Salam Christian Fellowship
Volunteers Needed:
Just as we appreciate and depend on financial assistance from our supporters, we also depend on volunteers to fill many service positions.
Listed here are some of the positions we have an on-going need to fill.
Sponsor a meal: Bring your Bible study or Small group in to provide a meal for fellowship time on a Saturday.  This is a wonderful opportunity to show your support and to witness to Muslim people
Drivers: Many of our people are new immigrants and haven't learned how to drive.  Many need a ride to doctors and county offices.
Musicians: Play the piano? Has God blessed you with the gift of song?  Come and share your special talent
 If you would like additional information, or would like to volunteer your time, please contact our staff at 630-666-1930, or email us at Hicham.chehab@gmail.com
---
Speaking Events
Invite Hesham to speak at your church or community group.  Contact him for more information.
Some of his topics are:
What is Islam?
This half-day seminar explains the history of  Islam from Muhammad to modern times.  Learn he beliefs and pillars of Islam.
Sunni/Shia Islam and ISIS
This 2-hour seminar will explain the difference between Sunni and Shia Islam and what that led to the rise of the  Islamic terrorist organization in history.
From the Muslim Brotherhood to a Follower of Christ
In this seminar, Missionary Hesham will share his testimony while giving attendees a historical background of the modern Middle East.  He will share how the Holy Spirit used these historical events to lead him to an understanding of the Gospel.
How to Reach Muslims
This video drama simulates encounters  between    Muslims and Christians in the  workplace or school.  Attendees will come away with ways to share the Gospel through friendship and respect.  2-hour DVD with   commentary.
 Christianity and Islam: A Comparison
This 2-hour seminar explains the basic differences and similarities between the two faiths and how they view Jesus.
Visions & Dream's in Mission to Muslims
This 6-week class explains how God uses dreams and visions to bring Muslim's to Christ.