Spring 2017 Newsletter
He is risen indeed!  Alleluia!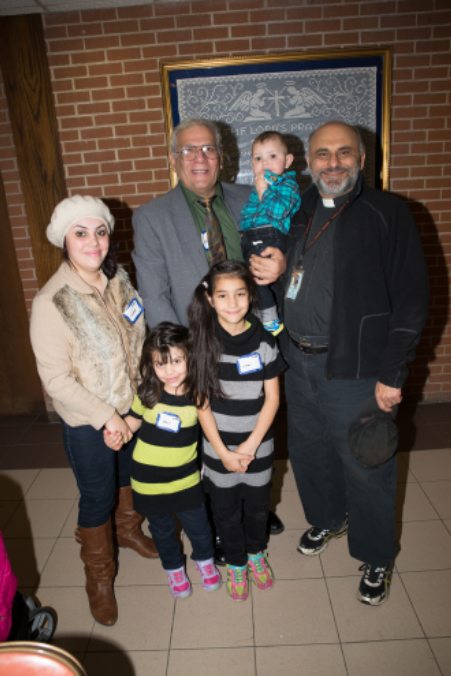 God brings hope and salvation through His Son.  It is during this time of the year that I can share the love of Christ to new converts in a way that they have never experienced.  Can you imagine experiencing   Easter for the first time after having been baptized?
It is because of you and your generosity that many Middle Easterners are able to say, "He is Risen".  Members of Salam Christian Fellowship continue to grow in knowledge as I teach Bible studies and preach.
Your financial support is critical to this ministry.  I spend many hours in the car driving people to and from doctors visits and welfare appointments.  This is a wonderful opportunity to minister as they are my "captive" audience and I can hear their stories and share the love of Jesus. Salam did have someone who would help with the driving but is no longer available.  I am praying that God brings people who are willing to share the Gospel and help me with the driving.  See page 2 for a story of how driving a Middle Easterner woman made a difference.
We would love to have you attend a Salam worship service on Saturdays at Peace Lutheran Church, Lombard.  Service starts at 12:30 pm. For directions or more information, visit Salam's website, www.salamchristianfellowship.org.
May the hope in our Lord bring you Peace.
Missionary Hesham Shehab
---
Drug Addict Finds Hope in Christ
Matthew 25:36-40 English Standard Version (ESV)
I was naked and you clothed me, I was sick and you visited me, I was in prison and you came to me. Then the righteous will answer him, saying, 'Lord, when did we see you hungry and feed you, or thirsty and give you drink? And when did we see you a stranger and welcome you, or naked and clothe you? And when did we see you sick or in prison and visit you?' And the King will answer them, 'Truly, I say to you, as you did it to one of the least of these my brothers, you did it to me.'
Last month, Salam Christian Fellowship received an appeal from a Middle Eastern family whose daughter, Zahra, 17, tried to commit suicide.  Zahra came to America when she was 9. She loved America and was a happy child.
But, Zahra, in her teenage years, ran with the wrong crowd that got her hooked on drugs. She went through a few rehab programs, but every time she failed to stay sober. She did not have enough support. Pastor Hesham took her to a rehabilitation center in Rockford, IL, for treatment. After her discharge, Zahra needed to be in anonymous drug meetings daily, but her family had no means of transportation. Pastor Hesham and Salam volunteers drove her daily to her meetings, and encouraged her to stay the course, and prayed for her.
Today, Zahra is an active attendee of Salam, and comes with her family every Saturday.  She was re-admitted to her high school, and is now looking forward to finishing high school and going to college. Her dream is to study criminal justice and with the law enforcement in order to serve the America that she loves.
---
Prayer Requests
For Mona as she begins Lay Ministry classes
For Hesham's health and strength
For Mona as she ministers to abused women and for her studies to become a Lay Minister
For a driver to help Hesham transport people
That God opens the hearts of Middle Easterners to hear His Word
For Middle Easterners who are in Asylum in the USA
---