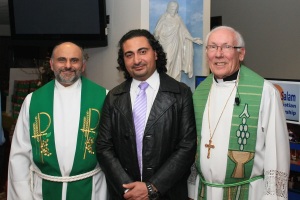 for God gave us a spirit not of fear but of power and love and self-control.
2 Timothy 1:7
Grace to you and peace from God our Father and the Lord Jesus Christ.
Sometimes, we tend to focus upon the wrong things in Jesus' parables. You can tell it by the names we give to them. The Parable of the Prodigal Son is not about the Prodigal Son but the waiting, loving Father. Here too, we could call this parable, "the Parable of the Extravagant Master. A master would not entrust all his resources to his servants. But God does. He has given to us His all, the fullness of His grace and mercy in Christ.
In this parable, we are not talking about money, even though money could be one part of how we invest in the blessings God bestowed on us. King David was providing gold, silver, bronze, and his personal treasure for building the temple, when he realized that it all comes only from God, and says:
1 Chronicles 29:14 (ESV)
14 "But who am I, and what is my people, that we should be able thus to offer willingly? For all things come from you, and of your own have we given you.
God is the Giver of all that is ours and what we do is either act in faith, using the grace He has entrusted to us, or in fear, afraid of the opportunities His grace provides to us.
I want to begin with the guy who buried his talent. The talent in the parable was not some small sum. A talent of gold weighed in those days 67 lb. It was equal to the wages of a hard worker for four years. Many thousands of dollars – a good amount of money even today.
He was so captive to his fears that he hid what he was given in the backyard in order to avoid dealing with it. His life was shaped by his fears, not by faith. It did not matter how much time the master might have given him, because he would never have been prepared for the day of reckoning. The talent shall be taken from him on that great and mighty day when the Lord returns to settle up with His people. The worthless servant will be thrown into outer darkness, where there will be weeping and gnashing of teeth. Jesus Christ is a risk taker who was lavish and generous and trusting. Because that servant was crippled by fear, and ignored the Good News of Jesus Christ, he fell in the hands of the Living God.
Most world religions rule and function through fear. Even the politics of nations is driven by fear.
I want to remind us of times in history when fear drove a free nation to perpetrate irrational acts.
When the U.S. entered the war against Germany and the Central Powers, a search for spies and saboteurs escalated into efforts to suppress German culture in America. Many German-language newspapers were closed down. Public schools stopped teaching German. Many of the numerous churches which had been founded by German-speaking immigrants stopped holding services in German and began changing over to English. The result of all of these was a blurring of German ethnic and linguistic identity in the face of rising anti-German sentiment.
Germans were called "Huns." In the name of patriotism, musicians no longer played Bach and Beethoven. Americans renamed sauerkraut "liberty cabbage"; and somewhat it is a paradox that German measles was called "liberty measles.
During WWII, seventy-four days after Pearl Harbor, President Franklin Roosevelt issued an order that forced over 110,000 Japanese Americans to leave their homes in California, Washington, and Oregon and live in one of ten detention camps in desolate parts of the United States.
Two-thirds of them had been born in the United States, and more than 70 percent of the people forced into camps were American citizens.
Under the shadow of the events in the Middle East and the war on terror, a friend of mine, a journalist, a German American Christian, has been telling me since we met some years ago… that we, Christians, should act before American Muslims are sent to detention camps. I know this sounds like an exaggeration in 21st Century America, but I want to say that the church is sometimes crippled by fear, like this world…even though we are not supposed to be of this world.
I once asked a friend, WHY IS DOG MINISTRY is MORE POPULAR IN OUR CHURCH THAN MINISTRY TO THE MUSLIMS? COULD YOU IMAGINE THE ANSWER? MY FRIEND REPLIED: "BECAUSE OUR DOGS DO NOT BITE!!"
YES..YES, SOMETIMES WE ARE CRIPPLED AND HINDERED FROM SHARING THE GOSPEL and investing in OUR TALENTS THAT CHRIST BESTOWED ON US BY FEAR.
Many of us avoid sharing Jesus with their neighbors and friends, because they are scared of being called Jesus freaks, or avoid going to lunch with us.
The more we hide our talents, the more they will be depreciated. The more we share and invest our talents with the world, the more they increase in value. Faith and love are the only things that the more you give them away, the more you get.
We are always encouraged by the stories of heroes of the faith. Imagine if Jesus' apostles did not go out with the Gospel to the world!! We would have been all pagans! Right! You may say, well those were the apostles. True, but they were ordinary men filled with the power of the Holy Spirit. Peter, the leader of the twelve had denied Jesus three times. The disciples of Jesus faced persecution, torture, and execution, but were not thwarted by them.
When we walk by faith God shall bless us beyond our human understanding.
Today, we have a young man from Egypt among us. Oussama was a young Muslim, 22 years old, living in Egypt. He was traveling by train one day, when an evangelist gave him a Christian tract, and later a copy of the New Testament in Arabic. The Holy Spirit worked in Oussama as he was reading God's word and he found peace.
His Muslim family was concerned by Oussama's new love for Jesus, so they sent him to Mecca, to straighten him out. But he could no longer believe as a Muslim. He found a treasure in Jesus, and was then ready to put behind his back his family's inheritance and wealth, in order to flee for Jesus.
7 for God gave us a spirit not of fear but of power and love and self-control.
1 John 5:4 English Standard Version (ESV)
4 For everyone who has been born of God overcomes the world. And this is the victory that has overcome the world—our faith. 1 John 5: 7
Oussama fled from Mecca to Jordan, to Syria, and finally ending up in Lebanon.
Oussama was able to open two stores in Lebanon and worked for twelve years growing his business. While in Lebanon he attended two churches growing in his faith, and evangelized on the streets of Beirut . However, more than a year ago, he was detained and held in a prison for 13 months in Beirut, Lebanon.
There, in Lebanon, Hizbollah is in charge. Hizbollah is a Shite terrorist organization controlling most of Lebanon. Oussama was beaten by nine soldiers for evangelizing in prison.
The torture he suffered did not separate him from the love of Christ. In fact he came closer to God in prison. This is when he became aware that Jesus was preparing him for a mission, like Joseph in that prison. He decided that he should forget about the "good" life he had in Lebanon, and follow God's will. He applied to the UN for refuge, while he was in prison. Although Oussama wanted to stay in Lebanon where his friends were and where he was comfortable. He felt God's call to come to the United States, even though he did not speak one word of English.
He was relocated to Chicagoland in ONE MONTH. This is unheard of – it was a miracle – God was at work! Last night, I was talking to another refugee about this. That refugee said that it took his family 12 years to make it to America.
Oussama found me in only five days (another miracle). Now he is helping Salam with evangelism. We are starting two new location for evangelism in Chicagoland.
Going back to the parable, we see that the loser lived by the law, and did not live by the Gospel. So, he was judged by the law. While the other two servants lived by the Gospel and knew their master well. They saw Jesus as a risk taker who was lavish, loving, generous and trusting. So they invested in what He had given them and took risks. In other words, they acted in faith.
Those two servants represent those who/ having received the Word of God/ are empowered by the Holy Spirit to respond in love and faith to seek further spiritual enrichment. They continue to read God's Word, gladly come to Church to hear it preached, and receive the Lord's Supper. They continue to reinvest in God's Word and His work in their lives. They are followers of Christ who are always prepared to share the blessings of Jesus with their neighbor. They are salt and light in a lost generation, a condemned and dying people.
The day of the Lord will come, as Jesus says in the parable. You cannot escape it. Easter's victory points us to that day, and then what was begun in the garden of the empty tomb will be made complete in each and every one of us who live in Christ by faith.
May God continue to give us spiritual gain through His Gospel and keep us free from any fear or complacency. For we wait with joy and peace the time when Christ our Lord and Master returns to receive us home, and by virtue of faith in Jesus Christ He will say to us, "Well done, good and faithful servant…Enter into the joy of your Master." In Jesus' name. Amen.
A sermon given on Nov. 16 at St. Mark Lutheran Church in St. Charles, IL